Projects: Support
Documentation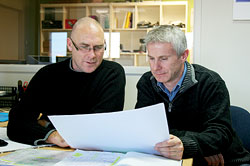 Your motor control centre will be supported with a customised documentation pack for your MCC. All information will be supplied in a single package, in both hard copy and electronic formats. Generic product information is also available for download from this website.
Training
AuCom are the experts in motor control and we share our extensive knowledge with your team throughout the project and into operation. We offer product and application training to your team and other contractors according to your needs. Training is available at your site or at the AuCom factory.
Topics include:
Motor start theory
Product proficiency
Operation and programming
Repairs and maintenance
Applications
Networking and communications
Fault-finding
Technical Support
Our Support Engineers are on stand-by ready to assist with any technical questions you may have. You can be assured that your enquiry will go straight to a qualified engineer with extensive experience. Support is available via phone or email (or site-visit if required).
Troubleshooting
In the unlikely event of a fault or other issue AuCom Support Engineers are available to guide you through your logs and assist to isolate and eliminate any issues. Our engineers have access to selected diagnostic tools to understand precisely the conditions of the fault. In the event of a more serious failure, AuCom has on-site and off-site repair facilities, supported by spare part stocks.
Spare Parts
AuCom can provide recommendations for spare parts to be held at your site. Spare parts and service are available through AuCom agents from engineers who understand your local conditions and language.
Repair
AuCom's service department offers component replacement or software upgrades for minor, major or emergency repairs as required. We offer a 18-month warranty on workmanship and product as standard, and can extend this warranty as part of your contract. All staff are authorised by AuCom to complete the work either at the place of manufacture or on-site, if required. For each repair you will be provided with a complete written summary of the issue and the steps taken to resolve it.
Extended Life
AuCom offers cradle-to-grave support for your motor control centres, to ensure increased reliability, safety and lower overall running costs. For existing or decommissioned MCCs, AuCom can advise an upgrade path or retrofit option that will make the most of existing equipment.
Service Contracts
AuCom offers a lifetime service contract for motor starters to provide peace of mind for all motor control centres, products and equipment supplied by AuCom.