Resources
Browse our collection of white papers, eBooks, webinars, podcasts, & more.
Information brochures for AuCom products and services.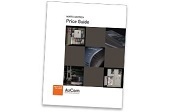 Request a copy of our price guide catalog with ratings, dimensions, and list pricing for all AuCom North America products and options.
User manuals for installation and operation of current AuCom products.

Home to a range of technical materials including fieldbus files, CAD files, and more.