Powerful and reliable.
The P-Series MVE panel system is a powerful and reliable solution for your medium voltage motor starting requirements. With our complete class E2 starter, the P-Series MVE will get your motor running.
Available in NEMA 1, NEMA 12, NEMA 3R and outdoor rated enclosures, thr P-Series MVE comes as a fully-finished cabinet including load break disconnect, in-line vacuum contactor, as well as built-in motor overload protection.
In addition to standard packages we can supply custom cabinets to deliver a complete line-up that meets your requirements.



Safer and easier to use.
Low voltage circuits are fully isolated from the medium voltage power electronics, using a high quality fibre-optic connection.
To simplify commissioning, the P-Series MVE supports testing with a low voltage motor to fully test power and control circuits, and configuration and signalling can be tested using the built-in simulation modes.
The MVE's phase arms have been designed for maximum versatility in installation. For common ratings, power terminations can be made at either the top or bottom of the input and output busbars.
Modular design means each phase arm is separate, and can be individually removed for maintenance if required.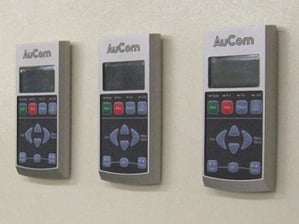 Take control from the start.
Medium voltage installations are complex enough without making the starter hard to use as well. The P-Series MVE is packed with features designed to make your life easier, including real language feedback messages, so you don't have to look up codes to know what's happening.
Knowledge is power.
We don't just get you started, we're committed to keeping you running smoothly too. Our dedicated diagnostic tools simplify support and maintenance.
Built-in monitoring and indicators, and extensive on-board input and output functionality reduce the needs for space and cost of auxiliary equipment, while simplifying installation. Real-time graphs of motor operating performance and current quickly and clearly illustrate exactly how your motor is performing. No fuss, no trouble - a smoother start in every sense.