Get the AuCom North America catalog today.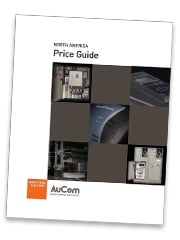 Our catalog includes ratings, dimensions, and list pricing for:
Low voltage standard product, including EMX3 and CSXi chassis units, combination starter packages and accessories
Custom engineered packages and options
Medium voltage MVE soft starters
Spare parts
To request the price guide catalog, please complete the form. We will email a copy to the email address you provide.
If you would like a hard copy, please indicate by checking the box and provide a delivery address.