Samsung Heavy Industries, one of the world's largest shipbuilders – is currently undertaking construction of eight 'Neo-Panamax' container shipping vessels that will utilise Samsung's revolutionary SAVER Air lubrication system.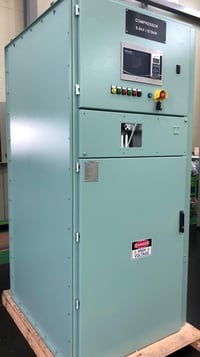 The integration of the SAVER Air system into these new shipping vessels marks the first time such a system has been utilised in such large, high speed container ships. By spraying air across the bottom of the ship's hull, the SAVER Air system reduces friction with seawater, improving the fuel efficiency of the 334 meter long vessels.
AuCom is proud to be a part of this milestone project, having supplied the medium voltage soft starters required for the project in partnership with MTEC, our exclusive distributor in Korea. The 6.6 kV type tested and marine approved soft starters are needed to run the 670 kW compressors that supply air to the SAVER Air system.
The 'Neo-Panamax' designation given to these new vessels indicates their suitability for navigating the newly expanded Panama Canal (a project that also utilised AuCom soft starters). The canal expansion has allowed for ships of much greater size to pass through the canal, and a Neo-Panamax design will endow these new Samsung built vessels with truly impressive freighting capability.