Oman's construction sector now accounts for around 8% of its GDP, growing rapidly to an estimated worth of $6.0bn in 2016. This growth is fuelling significant demand for a wide range of construction materials, including aggregates.
Helping to meet this demand, AuCom OEM partner Horizon Bright supplies ASTEC aggregate and mining solutions to aggregate producers across the region.
In 2012, Horizon Bright supplied a crusher solution to a local aggregate plant – choosing AuCom soft starters to provide a reliable starting outcome for their clients.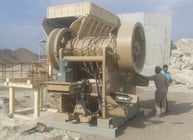 Panelised by a local electrical integrator, the AuCom EMX3 soft starter is used to start the plant's heavy duty vertical shaft impact crusher in demanding conditions (see the video below).
Khalid Raza, Director of Horizon bright is so impressed with the performance of the EMX3 – which has operated flawlessly since its commissioning - that he now trusts AuCom for all his motor starting needs. "We at Horizon Switchgear have been regular users of AuCom soft starters for more than five years. The AuCom starters are reliable, well featured, and backed by prompt service when required. We've never had any complaints." says Khalid.
The demanding conditions at the aggregate plant