Case Study: Mossel Bay Water Treatment
"They are so simple but they do so much for me!" exclaimed Johnny Meerholz, proudly displaying the AuCom IMS2 soft starter he just installed. Electrical Supervisor for Mossel Bay Municipality (MBM), Johnny worked with CHI Control's Western Cape Branch Manager, Kevin Russell, to install over 100 IMS2 starters in 60 different clean water and sewerage pumping stations beginning in 2002.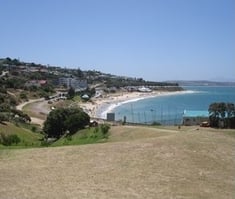 With requirements ranging from 55 kW in a seaside station, to 400 kW in the Kleinbrak Filter Station, MBM uses AuCom soft starters to meet a challenging range of environments and hydraulic demands. As well as their reliability, Johnny was extremely pleased with the user friendly design and interface of the AuCom starters – "We have occasionally taken delivery of other soft starters in the past, but you have to have a university degree to program them. The IMS2 is so simple, I wouldn't have anything else!"

The expertise of AuCom's local distributor helped Johnny to maximise the benefits of AuCom's soft starters to provide the residents of Mossel Bay with a reliable, cost effective pumping system.
Torque control soft starting provides near-linear acceleration during starting, eliminating pressure surges and mechanical stress. Using torque control together with AuCom's accurate current ramp allowed Johnny to keep starting currents as low as 200% at many stations.
Pump control soft stopping has eliminated the water hammer experienced prior to installation of the soft starters. The benefits are most noticeable on the 400 kW pumps that push water through 10 km of pipe from Kleinbrak over the Mossel Bay Hill.
Programmable relay outputs and analog motor current readout feed directly into the MBM Telemetry System, allowing problem stations to be identified instantly. Downtime and losses have fallen sharply and daily manual inspections are a thing of the past.
User-programmable electronic shearpin and undercurrent protection provide customisable defence against problems including broken pipes or faulty valves. This protection is built into the IMS2, eliminating the need for additional relays, indicators and wiring.
Easy-to-read feedback displays provide comprehensive status information on inputs, outputs and motor operation, simplifying monitoring by MBM operators.
Conformal coating of the printed circuit boards keeps the AuCom starters reliable even in the harsh atmospheres of coastal stations.
The adjustable busbar configuration of larger IMS2 soft starters simplified installation, allowing the soft starter to slot into existing cabling configurations.

Johnny laughed that he just had to install the starters and forget about them, but he knew that AuCom's local distributors are always available to provide full specialist back-up and support if required. Knowing that the starters are manufactured by specialists at AuCom and have full local support from a carefully selected distributor gave Johnny great peace of mind as he transformed the MBM pumping controls system.