A medium voltage solution you can trust
The MVE soft starter is a powerful and reliable solution for your medium voltage starting requirements.
An easy-to-use graphical interface and comprehensive built-in motor/load protection make this a well balanced solution for your medium voltage needs. MVE brings together sophisticated soft start motor control functionality in a robust yet compact physical configuration.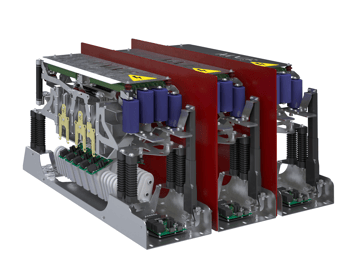 Take Control from the Start
Medium voltage installations are complex enough without making the starter hard to use as well. MVE is packed with features designed to make your life easier, including real language feedback messages, so you don't have to look up codes to know what's happening.
Built-in monitoring and indicators, and extensive on-board input and output functionality reduce the needs for space and cost of auxiliary equipment, while simplifying installation. Real-time graphs of motor operating performance and current quickly and clearly illustrate exactly how your motor is performing. No fuss, no trouble - a smoother start in every sense.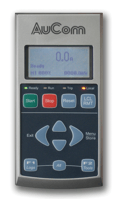 Knowledge is Power
We don't just get you started, we're committed to keeping you running smoothly too. Our dedicated diagnostic tools simplify support and maintenance.
Diagnostics
The MV Diagnostic Board is a data acquisition and recording board that is provided as standard with all AuCom MV products. The MV Diagnostic Board records waveforms that can help diagnose problems with the starter's installation or operation, including:
Excessive supply impedance (voltage sag and SCR conduction angle)
Generator set frequency stability at on/off load transitions
Disconnection of non-conduction fibre optic connections
A shorted SCR or welded bypass (can be isolated to individual phases)
Presence or absence of an MV supply
Supply quality issues (harmonics)
Gate drive failures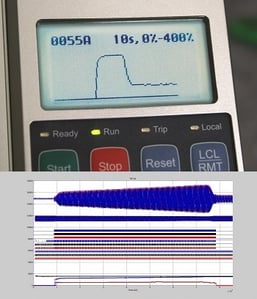 Detailed Event Log
The 99-place event log records time-stamped details of operation and performance, making it easier than ever to track how your motor is performing. An eight position trip log records trip states and operating conditions at the time of trip, including:
Phase currents and voltages
Mains frequency
Starter state
Time & date
Even safer with IBT technology
AuCom Interface Board Technology (IBT), a unique concept within the medium voltage soft starter market, separates the core starter control system (including the starter's controller and complex, time critical algorithmic processing) from the medium voltage power section.
Fibre optic wires connect the control and power sections of the starter through the interface board, eliminating the need for any copper wiring and providing complete galvanic isolation of the low voltage compartment.
Retrofit solutions
We can retrofit MVE into your existing system. Turn-key MVE kit type soft starters can be installed with minimal downtime. Update your old equipment with a cost-effective, reliable retrofit solution.
IP00 kits for integrators
IP00 kits are available for qualified integrators to incorporate into their enclosures and switchgear. IP00 kits include the SCR power section, controller module, fiber-optic cables and 24VAC/VDC power supply.